Resources and Databases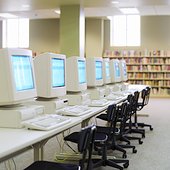 Dead-a-base
The Dead-a-Base is a database index of the obituary and death notice listings as they appeared in the Latrobe Bulletin from their first issue December 18, 1902 to the present. The index contains names, dates of death and dates on which the obituary appeared.
Databases by type provided by PowerLibrary
Art / Music
Auto Repair
Biography
Business

Children's Resources
Education
Find A Book
General Reference

Health / Science Literature
Newspapers / Magazines / Websites
For detailed description visit the
PowerLibrary vendor description page
.